Taylored Expressions Store! It's time to DIG IN!!! Be sure to check out the Fresh Out of the Oven Department for all the stamp sets and dies plus tons of other new products.  I'm joining the Baker's Dozen today in presenting even more shopping inspiration for you.  *wink* 
It's Release Day at Taylored Expressions.  Everything we've been showing you over the past several days in now available for purchase at the
Today I have 2 gift card holders made with the new stamp set Enjoy!, the Gift Card Frame Die, and a couple of small hindged tins (or altoids tins).  The frame image and die were designed to fit perfectly on or in these tins. 
This first tin was made to coordinate with the card I showed you on Monday as part of a little thank you gift.  I stamped the place setting image on Buttercream cardstock and colored it with Copics.  Then I punched it out with a 1 3/4″ Circle Punch and trimmed it out with Taylor's Tiny Twinkles.  You can see the polka dot frame was cute with the Gift Card Frame Die and fits perfectly on top of this tin. 
I trimmed the edges with ribbon adhered with Zip Dry.  Inside is a gift card for Ruby's Diner.  YUMMMMM!  Did you know that they have these gift cards at Costco here in SoCal? Only $40 for two $25 gift cards!   Like I said…yum! 
My second tin was created to hold a Starbuck's card – still a super popular gift for all sorts of occasions! 
This time I used dp from the Snow Day Project Pantry and put the frame image on the inside of the tin. This tin is super simple and it would be really quick to whip up several of these to have on hand.  You could even leave off the image until you're sure what type of gift card will go inside.  Although this is Christmas paper, it will really work year-round. 
You might notice that my cards are raised up on a platform in my tins and that I included little ribbon loops.  I simply use a piece of 3×3 cardstock scored and 1/2″ on each side to create the platform.  I've put together a video to share a few tips about creating these gift card tins.  If you have a few minutes, take a look and let me know what you think.  I'm going to ask you to please cut me a little slack as this is the first time I've made an over-the-shoulder video. There are several times when I thought I was holding something up to the camera for you to see close up, only to find that I was actually holding it out-of-frame!  LOL!  I promise to get better!  I'd love to make more video tutorials!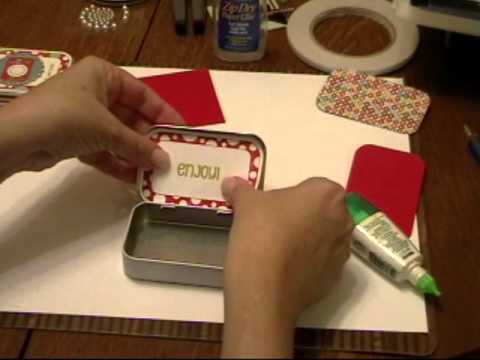 Thanks so much for spending some time with me today.  Let's check out what the Baker's Dozen has cooked up with all the new goodies…they will have samples of all the new sets… 
Happy Hopping and Happy Shopping!  Have a great weekend!