The July Release for Taylored Expressions is in full swing as all the new products are available in the Fresh Out of the Oven Department. I get to play along with the Baker's Dozen for one more day of inspiration showcasing all the new stamp sets.
My sample today features Under the Sea, a full-size set illustrated by Nancy McKinney for the Whimsical Wishes collection.  If you saw my post a few days ago that described my previous week, you'll understand why I needed to make these cards for a few people!  LOL!
And the inside:
I wanted a mostly white card, so I started by stamping the seaweed image repeatedly on the bottom of a Choice Snow White panel and coloring with Copics.  Then I ran it through my Big Shot with the bubbles side of the new Waves/Bubbles Impression Plate before applying Diamond Stickles for plenty of sparkle.
I stamped the crab and colored him with Copics. I used Spellbinders Labels 1 and Labels 1 Small to cut and layer the image as well as for the sentiment inside.  I love having both sets for tighter layering.
Once the regular sized card was done, I realized I should make a couple more, so I created tiny little notecard versions. I think I only spend about 15 minutes making the mini pair to go with little candy gifts.  I only had a chance to snap a quick Instagram photo before taking these info the office.
You may have noticed that I'm on a real kick of using these fun little sparkly embellishments – Pebbles Crystal Candy Dots and Queen & Co. Goosebumps.  At first glance in the store it might be a little hard to tell how they are different, so I made a short little video comparing the two.  Both are self-adhesive and sparkly and FUN.  I used the Goosebumps on the card above and the Candy Dots on my Coconut Cove that I posted on Thursday (and you'll see it in the video.)  You might find you prefer one over the other or, like me, might find you need them both in several colors!  😉  Check them out!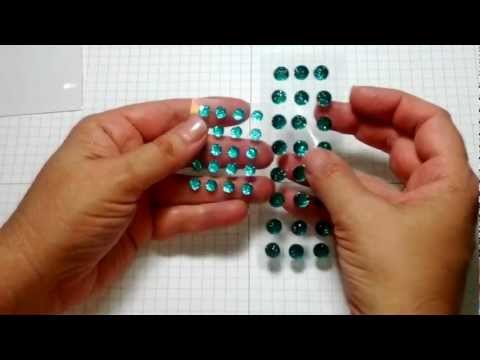 Now let's see what the Baker's Dozen has cooked up today:
Courtney Kelley – Guest Designer
Jami Sibley – DT Coordinator
Thanks for stopping by today.  I hope you are having a great weekend!  We have the dishwasher repairman coming this afternoon to see if it can be repaired or is we need a new one.  It was one of the appliances fried in the power surge last week.  Washing dishes by hand takes a lot of time!