Happy Thursday!  Sorry for the delay.  I had hoped to have this up by Monday, but it's just always somethin'.  LOL! 
I held my September Stamp Class two weeks ago and the project was a paper bag album – my very first paper bag album ever!  I had gotten gorgeous paper kits from My Mind's Eye (Lush Collection)  and was dying to do a special project with them in class.  During my August class I spouted off that we would make paper bag albums, despite the fact that I had never made one and at that point really didn't have a clue as to how it was done.  But I had wanted to make one for years and this seemed like the perfect opportunity to learn!  I watched a bunch of videos on YouTube, which I was extremely grateful for, but ultimately chose a more simplictic approach that worked really well for me.  The Rocket Scientist helped me put together a video to show you the album page by page as well as a little tutorial on how it's constructed. I even have a couple of tips in case you want to teach something similar in a class like I did.  I hope you enjoy it.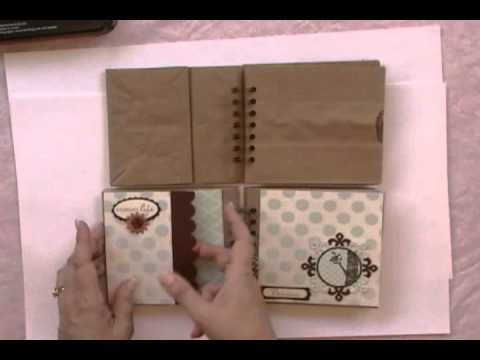 Some of the ladies in my class asked that I post still photos also for easy reference.  So here's the book, page by page.
Here's the cover (the scallop is made with the TE Medium Scallop Die and the leaf is a SU punch):
Pages 1 and 2:
Pages 3 and 4 (under the scallop is a little pocket for a memento):
Pages 5 and 6:
Pages 7 and 8 (these are little fold-over cards tucked into pockets created by the feet/flaps of the bags):
Page 7 – showing the journaling card open:
Pages 9 and 10:
 The insert cards (these are tucked into the 3 bag top openings):
This project was created with 3 brown lunch sacks, the MME Lush kit, my Cinch Binding Machine, Spellbinders Fleur de Lis Dies and stamps from Taylored Expressions:  Embrace Beauty, Summer Afternoon, Celebrate Life, Discover Your Wings.
I created mine for my niece and her husband who will be celebrating their First Wedding Anniversary soon with a little trip.  There are plenty of spots to add photos as well as opportunities to journal about the trip.  I hope they like it. I was tickled pink with it!  I had so much fun with this project that I want to do one for Christmas now! Oh and did you see the card I created to go with it?  Just scroll down one post or click here.
So tell me, have you ever made a paper bag album?  If you haven't, you really need to!  Check out my video and let me know if you have any questions.  I will admit that this was a big project for an evening class, but really it went pretty smoothly and I think everyone loved the result.  Next month we're back to cards though.  😉